Featuring work from 90 makers, Woodwalk Gallery is known for its extensive collection of a wide range of works; from wood-wares, jewelry and ceramics to oil paintings, weavings, and encaustics. Woodwalk seeks to be a place that celebrates all things handmade in a variety of art and craft media.
Set on a scenic 10 acre landscape, this former dairy barn built around 1908 was transformed into a beautiful and unique art gallery in 2007. Woodwalk is also a beloved venue that hosts gatherings, weddings, live music, and art-making workshops.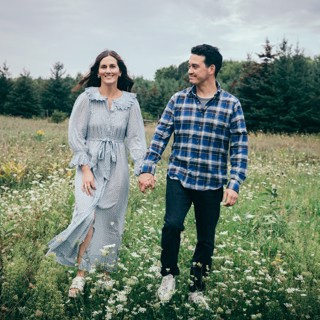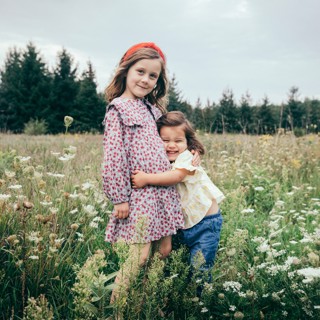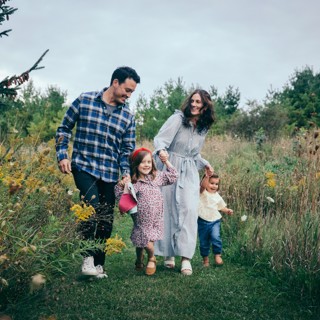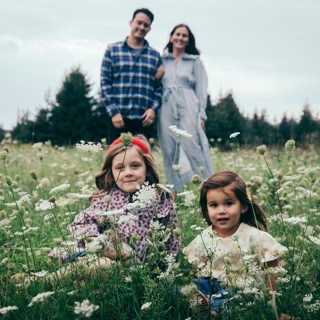 Today, Joslyn and Matt Villalpando (and their two girls, Josephine and Sylvie) are the new keepers of this magical place. Having been married here in 2015, they fell in love with Woodwalk, dreaming of continuing the legacy and evolution of the venue. Joslyn has a background in art and art education, most recently serving as the Director of Arts Programming for a charter school network in Chicago. She brings a love for making, curating, teaching, and hosting to Woodwalk. Matt, who grew up in Door County, has a background in Real Estate and looks forward to adding even more live music and creative gatherings while diving into lots of projects.

HISTORY
In 1994, Margaret Lockwood and Allin Walker opened Woodwalk Gallery (Woodwalk a combination of their last names) in an old schoolhouse in Juddville. Years later, they saw an opportunity to turn an old dairy barn in Egg Harbor into a new home for Woodwalk Gallery. Beginning in 2005, they spent two years renovating the space, creating a lofted straw bale insulated studio for Lockwood, a beloved Door County painter. The wing of the barn was transformed, finished with white walls, and the entire space eventually housed artwork from 50 artists, including Lockwood.
For the 7 years that Lockwood and Allin had Woodwalk, it evolved to host concert series and weddings, quickly becoming a Door County gem.
In 2015, the couple set their sights on another historical building renovation. They beautifully transformed a vacant space, built in 1862 under the banner of The Advocate Print Office, into Margaret Lockwood Gallery. Located in Sturgeon Bay, it operates to this day, housing all of Lockwood's etherial, captivating paintings.
Handing Woodwalk Gallery to Jillaine and Andy Seefeldt in 2015 set the stage for another transformation. The Seefeldts nearly doubled the number of exhibiting artists, created mesmerizing gardens and custom built various spaces around the barn, adding to its function and charm. While operating Woodwalk, the couple also founded Rustics by Design, a sustainable furniture and home-wares business using locally harvested and historical lumber. Each piece is still made inside the massive quonset hut on the property.
The Villalpando family is immensely grateful to be at Woodwalk, fulfilling a years long dream- living in the farmhouse with their girls whom adore roaming around the land's many beautiful features, no matter the weather.